Radical Upgrade – 15 Digital Marketing Trends You Can't Ignore in 2021
December 31, 2020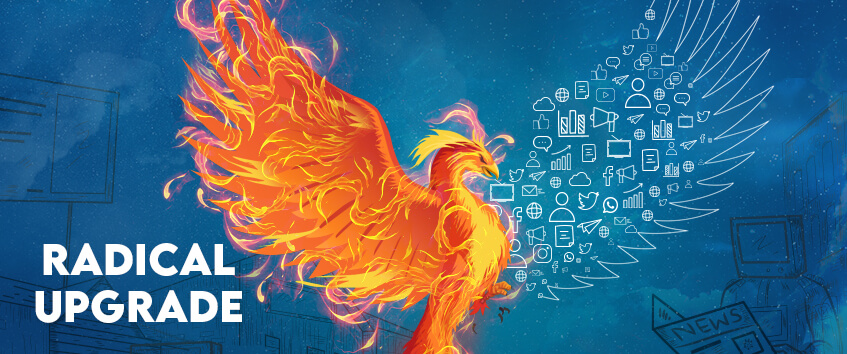 Times are changing rapidly and the internet, which was once a thing we used to illegally download music has now become a support system for humans. Every year, digital marketing trends and the market leading strategies evolve as more companies enter the space and new technologies pop up. 2021 ain't any different.
Truth-be-told, the trends across digital marketing were usually very similar year after year, but that's not the case of 2021. The havoc that the Pandemic has wrought around the world will reverberate throughout 2021 & the years to come.
We live in a very strange time where the marketing conventions moves fast from one trend to another and consumer behaviors are nearly impossible to predict. In simple words, if you want to keep up with current trends and the competitive world of internet, you must adapt to the rapidly evolving changes in digital marketing.
A Complete Digital Marketing Guide For 2021
2020 is the year that made a lot of people wake up to the dominance & importance of digital marketing tactics & strategies. To thrive in this age of innovation and unpredictable market fluctuations, business owners consider digital marketing trends among their top priorities for 2021.
1. Conversational Marketing
The ultimate goal of conversational marketing is to enhance the user experience by building trust & higher engagement through a feedback-driven model.
Conversational marketing is available across multiple channels, which means brands will be able to meet their customers on devices & platforms accessible to them.
According to a study by Forrester in 2020, 87% of companies understand the decline of traditional marketing methods & how customers are no longer excited about the existing buying experience. Hence, conversational marketing started getting dubbed as the most sophisticated alternative for this digital age.
Conversational marketing was ranked as an integral part for digital marketing in the Gartner Hype Cycle.
Conversational marketing is composed of 3 simple steps—engagement, understanding, and recommendation, which in the end builds a lasting relationship and value-added experience for the buyer and customer.
Another huge merit of conversational marketing is the higher lead conversion ratio, which brings better returns on investments and tailored insights into customer needs.
One in every three consumers uses messaging apps to find out more about a business, as per the latest report of Social Media Today.
2. Personalization
Digital marketing has transformed into an integral part of a brand since the emergence of the pandemic and the massive lockdowns. It is reported that the market has witnessed 10 year worth of digital transformation in the last 10 months alone. To stand out in 2021, every brand must start personalize their marketing efforts – that includes personalized content, products, emails, social media posts, multimedia etc.
According to an Epsilon survey, 80% of customers are interested to do business with a company that offers personalized experiences.
About 63% of consumers are fed up with the generic advertising methods.
The best success story in regards to personalized content/marketing can be seen in the targeted recommended products and movie listings from Amazon & Netflix.
Salesforce reported that when comparing to underperforming businesses, high performing companies saw 51% more business by using personalized data-targeting and segmentation.
Cadbury's personalized video campaign generated a 65% click-through rate and a 33.6% conversion rate, which was a huge milestone in company's digital marketing frontier.
The British multinational airline group, EasyJet, generated a targeted data-driven email campaign, which saw an incredible 25% higher click-through rate than the regular, more traditional emails.
Every studies and researches concludes to the same point that personalized campaigns and marketing efforts generate better results and click-through rates than the generalized ones. This has the potential to be one of the most powerful and unavoidable digital marketing tools in 2021.
3. Visual Search
Is Visual Search a game changer in digital marketing?
Absolutely Yes!
As the technology is advancing at a much faster rate than one could've ever predicted, you may no longer have to type your search queries into search engines. Users can just simply upload an image to conduct a search and get more specific & relevant results. If you look at the trends, visual search is poised to take off in 2021.
Pinterest has already made their move and got a strong foothold in the visual search craze. Pinterest came out with a visual search tool called Lens that allows people to take a photo of an item to find out where they can buy it online.
According to the official reports, Pinterest gets more than 600 million visual searches every month.
If you thought Pinterest was the only website that jumped on the visual search bandwagon, you are wrong. Google developed a visual search engine called Google Lens, which recognizes landmarks, objects & products through a camera app.
Today, Google Lens has already been used more than a billion times & it is reported that Google Lens can now identify more than a billion objects, a number that is rising every day.
Similarly, Bing also developed a visual search tool known as Bing Visual Search, where you can search for something specific without having to go through all the other things.
According to the official Social Media Today report, 62% of young consumers are more interested in visual search technology.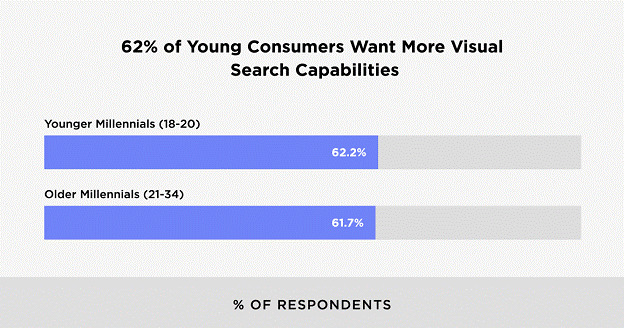 In 2021, marketers can utilize visual search trend to draw customers and to edge out competitors by serving them the product of their liking.
4. Micro-Moments
Most of the times a consumer looks for the products that satisfy his/her needs than the brand. Micro moment marketing creates valuable content that attracts consumers by enabling them to learn and discover products and provides insights into consumer's psyche and their orientations.
According to Google, there are only four main game changing moments that really matter to brands and digital marketers alike— There is an 'I want to know' moment, 'I want to go' moment, 'I want to do' moment, and 'I want to buy' moment.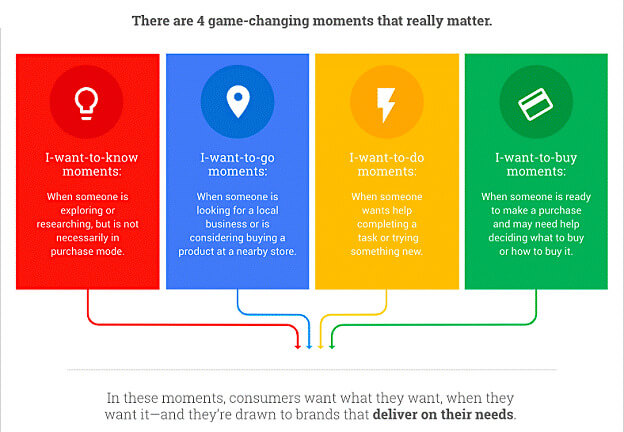 Since the customer journey will only get more dynamic and unpredictable by the passage of time, knowing how to capitalize on these above mentioned moments with unique, engaging content is without any doubt the key to create a more advanced marketing strategy in 2021.
Adapting to the rapid transformation in technology is another important aspect for developing micro-moments for consumers. Technological advancement has shifted the customer buying journey, which eventually changed the marketing methods and customer preference.
Amazon is the best example to showcase how the best strategy in the form of micro-moment marketing can create differentiation in the market.
The failure of General Motors Cars in India, the sudden disappearance of mobile brands like Nokia and HTC are some of the finest examples for not using micro-moments marketing.
To get the most out of micro-moments in 2021, companies must understand the need for micro-moment marketing as soon as possible.
5. Push Notifications
Not long ago, Google listed Push Notifications as an integral digital marketing tool that shouldn't be ignored.
According to the latest report from Invespcro, push notifications has increased app engagement by 88% and was the sole reason for 48% of mobile users making an in-store purchase.
An average consumer/mobile user uses at least 9 applications every day. To ensure the customer doesn't uninstall it, it is important to keep them engaged. That's where push notifications can work miracles.
As per the findings of Google, 82% consumers use their mobile device to make an in-store purchase. Push notifications can be used to drive in-store sales.
It is estimated that 85% of online stores used push notifications in 2019 alone.
Using personalized push notifications plays a big role in increasing conversions. It was reported that 54% of consumers are converted from a segmented/personalized push notifications when compared to the low rate for broadcast messages.
A study conducted by MoEngage on the push notification revealed that push click-through rates can go up to 45%, which are 7x more than emails.
6. SEO A/B Split Testing
The current marketing landscape is all about testing, experimentation, analysis and repeating the processes. For companies to truly flourish in today's highly competitive market space, SEO A/B Split Testing remains one of the best tools to make data-driven decisions for increasing conversions.
A recent report found that about 91% of content gets zero organic traffic. It's the magic of SEO A/B Split Testing that can bring in more conversions and high revenues for the businesses.
The recent State of A/B Testing report by Invespcro concludes that around 58% of companies are using A/B testing to increase the flow of conversion & revenues.
The highly recognized eCommerce brand, Grene, saw a 2x increase in overall purchase quantity by running successful A/B tests.
One of the fastest growing online fashion retailers, Zalora, increased its checkout rate by 12.3% by optimizing its product pages.
One of the leading French video game companies, Ubisoft Entertainment, witnessed a 12% increase in its Lead Generation by using A/B Testing.
By using data-driven A/B testing, the Indian-origin fin-tech company, PayU, increased its conversions by 5.8%.
SEO A/B Split Testing strategy saves time and money, and with the right tools, even a tiny budget can deliver a great ROI.
7. User-Generated Content
UGC or User-Generated Content must be handled as a core part of every marketing strategy in 2021 as it provides brands, opportunities to nurture a sense of community, a better connection with the existing customers, and will help to keep up with the industry.
Facebook, YouTube, Twitter, Instagram, TikTok, Linkedin, Yelp, etc. are the key suppliers in the global UGC software market.
It is estimated that by the end of 2026 the global User Generated Content (UGC) Software market size will reach a massive USD 439170 million.
Encouraging your audience to share unique content by offering discounts and partnering with them will help companies to tap into the Millennial and Gen Z markets.
A recent survey found that 79% of consumers reported that User-Generated Content influenced their shopping decisions more than any other form of marketing.
GoPro's official YouTube channel is a literal testament to the power of UGC, as the fan favorite company (10 million subscriptions) uses high-quality videos produced by their customers in the channel.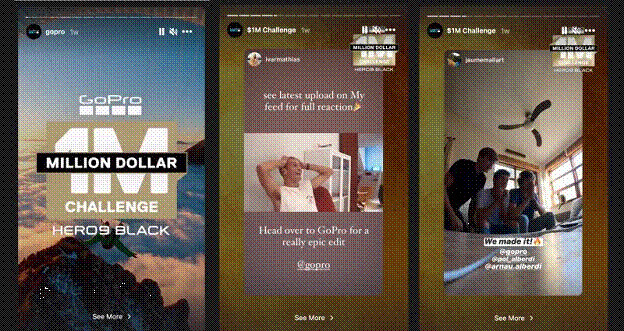 UGC can be as basic as pictures, videos, blog comments, testimonials, product reviews, blog posts, tweets, podcasts, and whatever content that promotes your brand.
8. Quantum Computing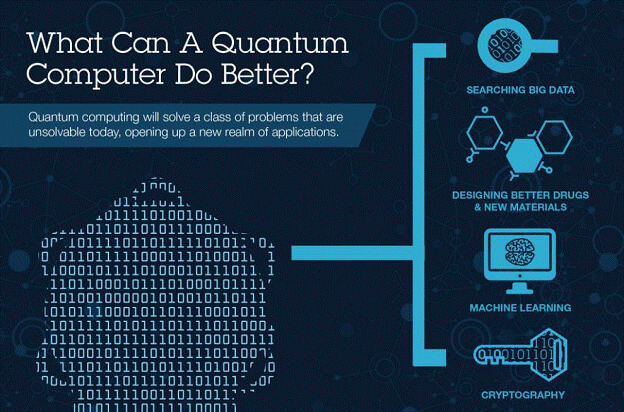 Even though 2020 was a positive year for quantum computing sector and witnessed a number of achievements from industry leaders including IBM, Amazon, and Google, the widespread use of quantum computing is still miles away.
In February 2020, D-Wave Systems Inc., a quantum computing company, launched Leap-2, the first quantum cloud service designed for developers with significant practical impact.
IonQ announced its next-generation quantum computer system in October, which is expected to have a quantum volume greater than four million.
China recently developed Jiuzhang, a quantum computing system, which is said to be 10 billion times faster than Google's Sycamore.
According to Frank Feather, CEO at AI-FUTURE Inc, quantum computing will drastically evolve and emerge in 2021, which will radically transform the existing Artificial Intelligence into a truly one of a kind Advanced Intelligence.
Based on a quantum physics theory, Quantum computing is a new technology that uses a single atom known as a qubit which massively increases the computational power of a system. It is expected to improve mobile data coverage, astronomical improvement in machine learning, and increased relevance of ads.
Multiple renowned experts have already said that 2021 will see more companies look for Quantum computing for specific uses that can be leveraged sometime in the next decade.
9. Google Ads Smart Bidding
It only requires a glance to conclude that the pandemic has severely affected the market trends and search behavior in a bigger way than anyone could've ever imagined. So, it's not at all surprising that in recent years, Google has heavily invested in artificial intelligence and Smart Bidding as the name suggests is one of the many industry altering results of that investment.
With Google Ads Smart Bidding, you just have to tell Google about the campaign, what your advertising goal is and what your target is. Smart Bidding will take it from there and figures out how to get it done within your budget without sacrificing the results.
Google Ads Smart Bidding works for a number of PPC goals including,

Target CPA (Cost Per Acquisition)
Target ROAS (Return On Ad Spend)
Maximize Conversions
Enhanced Cost Per Click (ECPC)
Maximize Clicks
Manual CPC Bidding
tCPM Bidding (Cost Per Thousand Impressions)
vCPM Bidding (Cost Per Viewable Thousand Impressions)
CPV Bidding (Cost Per View)
Target Impression Share Bidding

Google Ads Smart Bidding is especially a great choice for businesses & companies that are new to the game and for those who lack sufficient time to devote to campaign management.
Google's automation & AI capabilities have gotten better over the years & it was only a matter of time before Google's machine learning increased the efficiency of technology like the Google Ads Smart Bidding.
10. Video Marketing
Video marketing is the most important marketing trend and most result driven marketing tool today. As per the trends, it's likely going to be the same for years to come. Over the years, we've witnessed video marketing trends transform from short ads and viral videos to vlogs, live streams, webinars & podcasts.
According to a latest study, users are predicted to spend 100 minutes a day watching online videos in 2021, which is a 19% increase from the 2019 stats.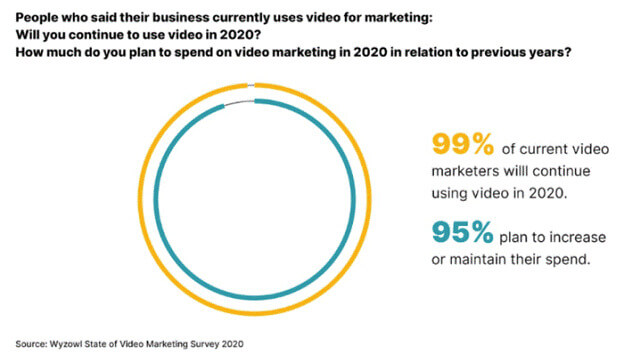 The TikTok boom and the rollout of Instagram reels this year reflects how much important video marketing has become.
Facebook, which accommodate more than 2.7 billion monthly active users, reported that users view an average of 8 billion videos per day.
YouTube reported that they receive 500 hours of video content uploaded in the website every single minute.
A recent study shows that 89% of video marketers say video, in general, gives them a good return on their investment.
While 70% of consumers say that they have shared a brand's video, 72% of businesses and companies reported that video content has improved their conversion rate.
It was also reported that about 52% of consumers stated that watching product videos and ads made them more confident towards a product and in online shopping decisions.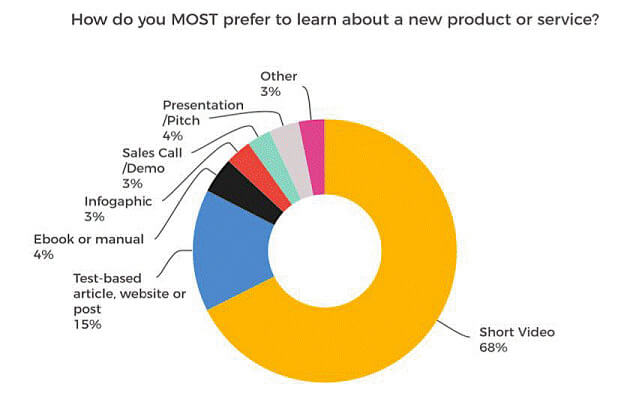 And when you think about video content, don't just think YouTube or other similar streaming platforms. There are several other ways to drive higher engagement and results with your video marketing efforts. You can make a video post on Facebook or start a live video session on Facebook and Instagram or you can even make podcasts and webinar sessions on several other platforms.
11. Interactive Content
Interactive content is one of the fastest-growing digital marketing trends in recent times. Nothing can compare to the engagement and results that interactive media can bring to your business.
It was reported by several studies that, 91% of customers are constantly searching for more interactive content online.
Interactive content are fun and it really brings in the numbers including high engagements and sales, as the consumers gets involved in the process.
Interactive content is, more memorable, more fun and more likely to generate conversions & results your venture needs.
Dynamic, engaging content that provides consumers an immersive experience;
Quizzes and polls
Interactive Infographics
Chatbots and Artificial Intelligence
E-Books
Giveaways
Embedded calculators
Augmented reality ads
360-degree videos
Interactive content has more applications beyond marketing. It can be used to boost your brand and improve your business and as long as you're using these for your marketing strategy, you're sure to find success in 2021.
12. Geofencing
Expect to see geofencing technology make significant developments in 2021, as a Market Research Future report predicts that the geofencing global market is expected to grow to a whopping $2.4 billion by 2023.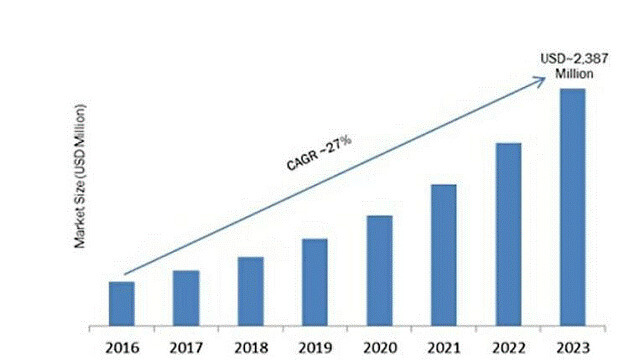 To amp their marketing efforts and to help gain more customers, restaurants and hotels use geofencing technology that target a particular audience set within a specific boundary.
With geofencing technology, restaurants can efficiently serve customers with fresh food safely in the pandemic driven world.
Geofencing is a valuable resource for dynamic B2B marketing in various industries.
With geofencing, vehicle owners will be able to receive alerts on their smartphones regarding traffic and road conditions to help them identify the traffic conditions & an alternative way to get to their destination quickly.
By sending push notifications and alerts in a customer's smartphone and offering promotions & discounts when they enter the restaurant territory, geofencing technology has reported to increase sales, customer loyalty and engagement.
Geofencing technology is the key distinguisher in targeting the right audience and an excellent tool to reach local customers and to generate higher conversions.
A well-targeted geofencing campaign is the best way to build a loyal local customer base in 2021.
13. Omnichannel
Whatever happens from now on, you can't deny the fact that the marketing landscape has been forever changed and Omnichannel has been locked in. It was not all that long ago, where brick-and-mortar stores, ecommerce & retail were seen as completely separate entities.
According to the 2020 report by PWC, the number of companies investing in the Omni-channel experience has made a huge jump from 20% to more than 80%.
As per the recent reports by Adobe, companies with the strongest Omni-channel strategies enjoy a 10% year over year growth.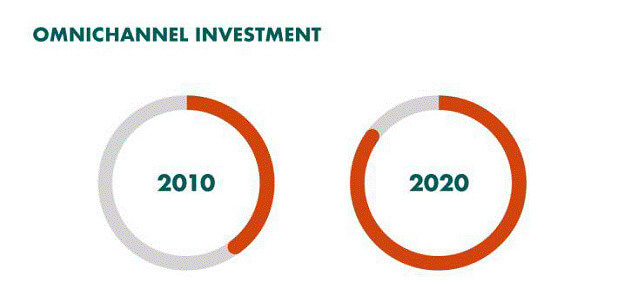 According to the latest Omnichannel Leadership Report,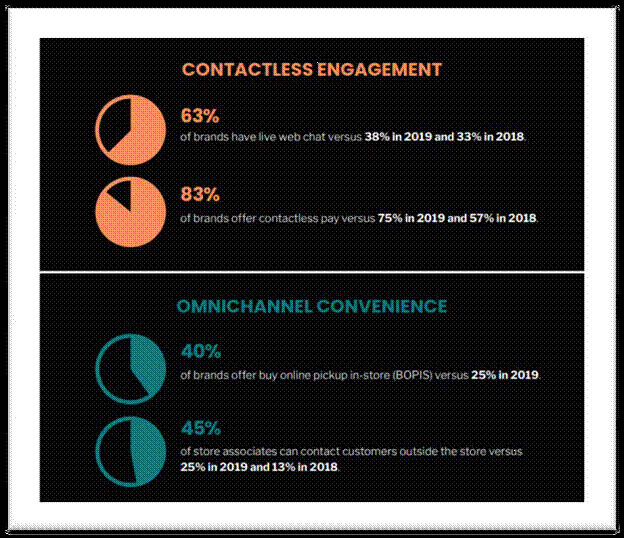 Pandemic has accelerated the adoption of omnichannel strategies to a long extent. From live web chat and contactless payments to appointment scheduling and virtual shopping sessions, omnichannel strategies has witnessed an upward trend in 2020, which is a promising sign for 2021.
Brands that offer live chat option went up from 38% in 2019 to an incredible 63% in 2020.
The recent Harvard Business Review survey suggests that about 73% of consumers happen to make successful shopping experiences only after utilizing the omnichannel capabilities.
Omnichannel has never been more essential than it is right now. For those who previously invested in an omnichannel foundation, it's been an easy adjustment.
14. Programmatic Buying
If you didn't know before, then it's time to know now. About 65% of marketers said that they spend a lot of budget on programmatic buying/advertising, as far back as the year 2016.
According to the latest study done by Statista, the global programmatic advertising spending is expected to hit 147 billion U.S. dollars by the end of the year 2020 compared to the 105.95 billion U.S. dollars in 2019.
According to Zenith's report, by 2021, 68% of the total global digital media ad spending is expected to take place in programmatic advertising.
It is also expected that the growth of Artificial Intelligence technologies will increase the efficiency of Programmatic advertising in the coming years.
A 2019 report published by Strategy Analytics declared that wearable's technology will revolutionize programmatic advertising. (global smartwatch shipments rose to a whopping 44% year-on-year in 2019)
5G networks will enhance all forms of programmatic advertising and the use of 5G tech is expected to expand to 1.4 billion users by the year 2024.
In the coming years, especially in 2021, programmatic advertising is predicted to act as the default trading method in media.
15. Social Commerce
Social commerce isn't a new topic by any means. In fact, Social Media has radically changed the way we interact with each other, how we view the world, and most importantly, the way we shop. The coming year is probably the best time for social commerce to thrive.
The recent reports suggest that over 87% of buyers on e-commerce platforms strongly believe that social media influences their purchase decision.
In May of 2020, the social media giant, Facebook announced their ambitious social commerce project, Facebook Shops. Facebook Shops allows retailers to set up full-fledged storefronts on their Facebook business pages.
The internet giant has also replicated the idea on Instagram as well, branding it as Instagram Shops.
Some of the major global social media networks have improved their social commerce frontier and are expected to capitalize more in 2021. Most notably, the introduction of Facebook and Instagram Shopping, Buyable Pins on Pinterest, etc.
The emergence of social commerce has already paved the way for integrations with several eCommerce platforms. Shopify's integration with Pinterest, Instagram, and Facebook is just the beginning.
With more people on the internet than ever before and e-commerce and brick-and-mortar retailers adopting new strategies to drive their sales, Social commerce will continue to flourish in 2021.
Wrapping up
So, there you have it – our complete guide to the 12 most important digital marketing trends you can't ignore in 2021. 2020 has probably caused the biggest ever shake-up in the digital marketing world. The world of marketing is evolving and new trends come and go. Hence, the strategies which you implemented in 2018 or even in 2019 mightn't work for 2021. To be successful at business, it is important to adapt, and develop constantly and to come up with fresh ways to communicate with your target audience.
The bottom line is that your business needs experts from Monolith, a digital marketing agency in Kochi, to help you create and implement a fully effective digital marketing strategy to survive and dominate your competitors. If you're looking for a marketing company, you don't have to look farther than us. Contact us now!