Top 8 Content Marketing Strategies of 2020 | How Pandemic is Changing the Industry
December 30, 2020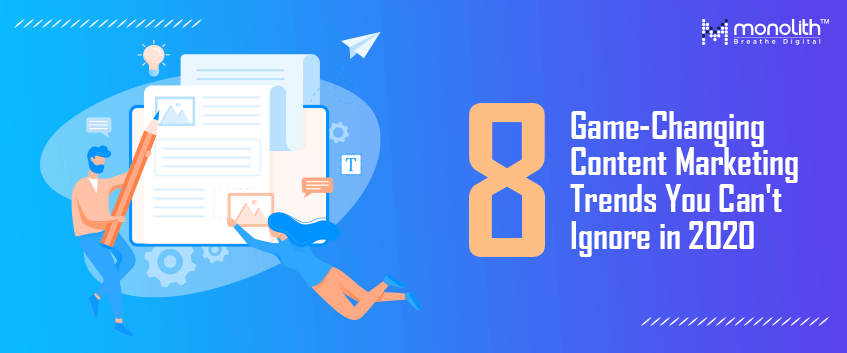 "Content marketing is the only marketing left." – Seth Godin
Content marketing can take any form, any medium, and any platforms. The important thing is to identify and associate with which content marketing strategies can be more effective for your business and can easily connect with your core audience.
Content marketing has become a pillar for a brand's marketing strategy, and with the right tactics, you can tap into your company's unique voice and perspective.
Numerous content marketing trends and strategies that were already emerging and working quite well even before the Pandemic have witnessed a drastic acceleration during the lockdown days, and many previously tried, and proved methods have been experiencing difficulties. In the current climate, to successfully draft an effective digital marketing strategy, one must learn to combine the newer content marketing trends with the traditional methods.
Content marketing has undergone some serious transformations throughout the years, and these endless metamorphoses tell us that content marketing is here to stay. So, how do we best engage our audiences with content right now?
1. Personalized Results-Focused Content
It is the obligation of a digital marketer to keep the customer happy and make the brand relevant, or they'll go elsewhere for their marketing needs. So, the first thing to understand when talking about personalized content is that it shouldn't be treated as an add-on or as an extra. Personalized content should be an integral part of your content marketing strategy as it makes the brand more engaging, which eventually makes the audience more likely to interact with the brand, purchase, and remain as a customer.
Amid the crisis, personalized content opens new doors to community building and creating even more personalized experiences for your audience.
According to Evergage's Personalization Survey Report, personalization of content helps to maintain a strong customer relationship, with about 70% marketers claiming "strong" impact following the strategy.
The marketing giant HubSpot's survey suggests that the interactive results-focused content, especially in Instagram and YouTube platforms, had a far greater impact on buyers as it helped them to make informed decisions, increasing loyalty, and generating ROI.
2. Influencer Marketing
As the marketing world is going through the most transformational period in recent times, influence is like currency these days. So, it is important to build and invest in influencer marketing as it allows marketers to borrow power and reach from others; which will translate to more visibility for the content, and user interaction for the brand you represent.
"…a massive jump of 76% in the number of "likes" on their sponsored posts on Instagram…"
As the world is still reeling from the effects of the pandemic, which resulted in the collapse of the global economy, Social Media Influencers had to go through turmoil as they lost their sponsorship deals and revenue streams. On the good side, it also opened new doors to market content.
Digital marketers have started to adopt the influencer-marketing business model as it is a more suitable and effective alternative for content consumption in the current climate.
Obviously, the giant influencer marketing agency, in their recent report states that they have seen a massive jump of 76% in the number of "likes" on their sponsored posts on Instagram in just one week.
CreatorIQ's analysis report shows that the overall engagements on influencer posts about the Coronavirus exceed 2.9 Billion, and campaign/information sharing posts by the influencers have passed 1.5 bn engagements on the Instagram platform alone.
According to a recent research, 70% of teenagers trust influencers more than any other celebrities.
Many of the influencers/creators are jobless and cooped up at home. But, their followers and consumers have been spending more and more time on social media than ever before and interacting actively. This paves way for a collaborative marketing method were Influencers can provide brands with less-expensive and easy-to-produce content or team up with marketers to efficiently market
content.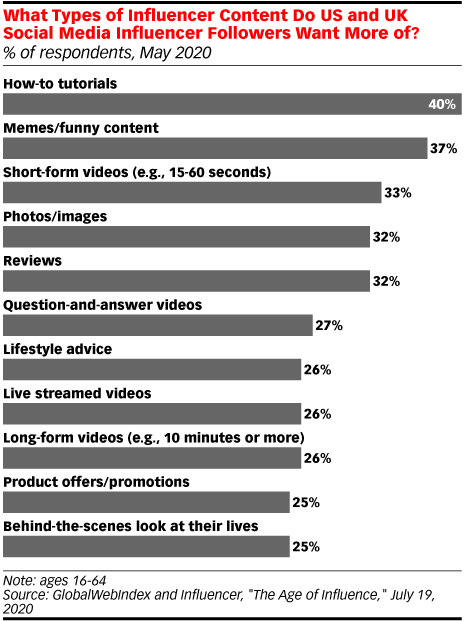 3. Video and Live-stream
"Seeing is believing"
Video is here to stay, and it most definitely will continue to reign for the rest of 2020. Multimedia content, especially video content, has transformed into the go-to method for many brands for the past few years, and the pandemic has accelerated this trend to new heights.
The modern consumer finds multimedia content easily accessible and engaging, and according to the survey conducted by Livestream, more than 80% of the consumer prefers watching live videos over blog posts.
In a survey conducted by Bizzabo, an event software platform, 41% considered live events and streams to be the most critical and potential marketing channel.
It should also be noted that the number of companies organizing at least 20 live events a year has increased by an impressive 17%.
4. Webinar
Webinars are another effective way to boost content visibility and engage your audience.
ON24's studies suggest that "76% of marketers say webinars allow them to drive more leads, and 75% think it will help them to extend their brand reach".
So, leveraging webinars and live streams can help to generate new leads and allows you to capture the attention a wider audience.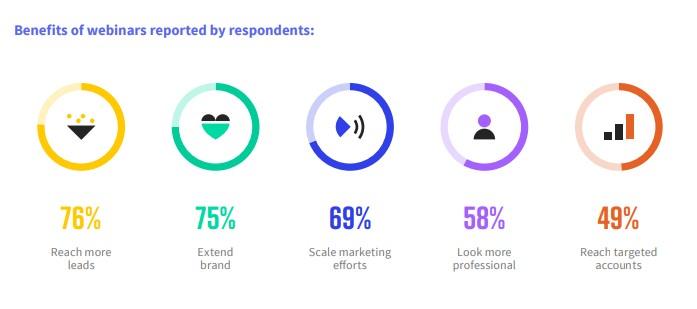 5. Augmented Reality (AR)/Virtual Reality (VR)
AR & VR can help enhance personalization, analyze customer behaviors, improve the sales pipeline, and predict the future of the market.
AR & VR technology saw its record growth in 2019, and by the middle of last year, the user base for AR-supporting mobile devices reached approximately 1.5 billion.
According to a report by Gartner, it is expected that at least 100 million users will utilize the AR-enabled shopping technologies by the end of 2020, and another report from BRP indicated that 48% of consumers are more likely to buy from a retailer that's equipped with AR & VR experiences.
Augmented reality (AR) is becoming more common and popular than ever before, thanks to its roaring success in social media platforms. Social media superstars like Facebook, Instagram, Pinterest, and TikTok have launched their own effects using the AR technology following the footsteps of Snapchat.
Artificial intelligence and machine learning quite possibly are the fast-growing sectors in tech and have a key role in the marketing sector as well. Retail giants like Amazon and Alibaba are at the forefront of this trend as they use data science and machine learning to deliver search results.
Reports suggest that 35% of sales on Amazon, the global retail giant, are derived from its recommendation engine, which uses AI technology to a huge extent.
 As the Pandemic is spreading like a wildfire, the prediction reports show that 25-30% of the workforce will have to continue working from home numerous days a week by the end of next year. If the reports are anything to believe, Microsoft is already making a move with a beta edition of a video-calling system that integrates augmented reality technology to enable holographic-style meetings.
Another tech company, Cisco Systems, is also working on an ambitious project known as Musion that aimed to bring similar technological advancement to the market.
It is predicted that AR/VR industry is the future of digital marketing, and by the year 2025, the market will reach more than $25B in revenue, and experts even believe that by 2022, ads using AR will generate revenue of around $13 billion.
Now in 2020, with the global pandemic forcing many companies to the brink of collapse and physical events to a halt, AR technology has seen its demand increase tenfold.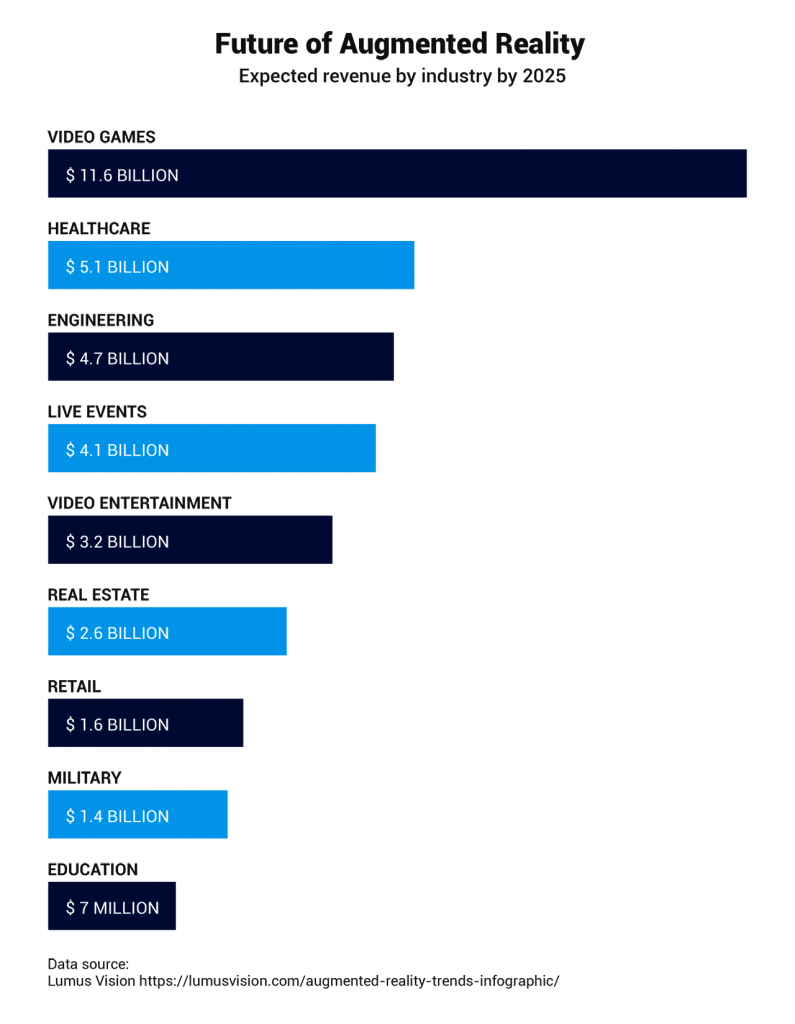 6. Chatbots
Chatbot have been around for so many years now. But, the pandemic has brought a whole new meaning to chatbot marketing. If the early signs are anything to go by, this trend is here to stay long after COVID-19 ends.
Before the world went haywire, chatbots and conversational marketing were already seen as the next monumental thing in the digital marketing world. Thanks to recent events and multiple lockdowns, the rise of the chatbot has seen a dramatic acceleration in popularity and application.
As the pandemic is still ravaging the planet, businesses are migrating online, and it's become really hard for companies to adapt back to the old ways. That's where chatbots come in. Chatbots reduce customer service costs, assist in lead generation, improves brand reputation, and can take care of the potential client's needs instantaneously.
With users flooding the internet at an alarming rate, the need to quickly segment your traffic has also become important. Chatbot technology can come in handy here as it can be used to segment the incoming audience. That's why chatbots are becoming an integral part of any business or marketing strategy today.
According to reports by Market Research, in 2017, the Global Chatbot Market was estimated to be valued at approximately USD 858.1 Million, and it is expected that by the year 2025, the value is projected to reach USD 4.02 Billion, growing at a Compound Annual Growth Rate of 23.16% from 2018 to 2025.
A Mobile Marketer study about chatbots indicates that chatbots will become more robust with the advancement of AI and will drive $112B in retail sales by 2023.
7. Data-Driven Content Marketing
Many digital marketers use Google Analytics as a tool for their data-driven content marketing strategy. Once you understand the power and impact of data-driven insights from analytics, you can use this to create successful content marketing outcomes. The on-site search report in the on-site search functionality can be used to boost rankings as it gives details about all the searches with exact keywords people had used to access your website.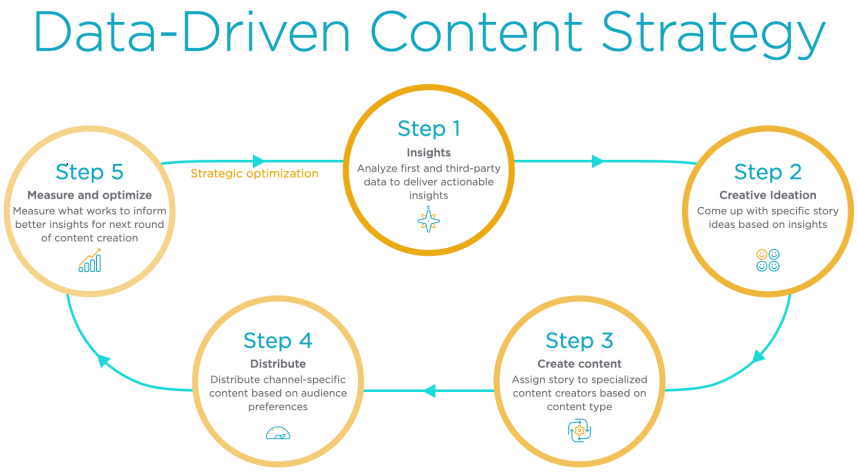 As the marketing world is going through a rocky situation, it has become important to adopt a data-driven mindset throughout your marketing team where content-creation decisions based on concrete data should be prioritized rather than creating the content you think your audience wants.
It also allows you to get constantly updated with the changing consumer behavior, utilization of learning to optimize and improve the overall consumer experience, thanks to the widespread accessibility of data and analytics tools.
The customer journey is constantly evolving, but with the right data, digital marketers can pinpoint where the journey is taking them. Data analysis also provides a look at future marketing trends by looking at the changing trends and growth in the current market to analyze future consumer needs and behavior.
8. Omnichannel Content Strategy
The term "omnichannel" is everywhere these days. Done right, the omnichannel experience is seamless, providing an optimized, user-friendly experience. Omni-channel marketing focuses on the customer and the customer alone, and it contributes to positive experiences with your brand.
The CMO Council and Netsertice's joint research report suggests that 94% of marketers strongly believe that getting the omnichannel experience right is essential to the marketing strategy and success for the brand.
Harvard Business Review conducted a 14-month study to understand the shopping behavior of customers and concluded that a whopping 73% of consumers used multiple channels throughout their shopping journey.
Content marketing is evolving at a rapid pace and to predict what the market trends might look like tomorrow is impossible at the moment. But if the studies and data are anything to go by, multimedia contents and data-driven content marketing will continue to reign in 2020, while AR & VR technology, chatbots, personalized content, and influencer marketing together contribute to make an effective content marketing strategy for the rest of the year.
Big data, AI, machine learning, automation, smart tech, etc are changing the user perception and audience interaction on a day-to-day basis. So, it is more than certain that the future of digital marketing is solely based on innovation in new technologies.
To stay relevant and ahead of the curve in a market that's being oversaturated by big hitters and small-scale companies alike, you'll need to adapt to the changing industry trends no matter how untraditional they are.
To stay relevant and increase conversions in the future, marketers need to polish their talents and learn to create personalized, interactive, and result-focused content—especially video content like webinars, live streams, podcasts, etc— and expect the worst while working for the best. In summation, keeping your brand values and objective high while also finding the best strategy to reach your audience should be the main goal for any digital marketer in 2020.
Also refer similar topic E-Commerce Trends and Updates.